Conference Poster Abstracts
 AWCBR 2011
Cannabinoid receptor type II as a target for neuroprotection following hypoxia ischemia. Or is it an active vehicle in the driving seat?
J. Rivers and J. C. Ashton
      Active marijuana extracts and synthetic analogues, referred to as cannabinoids, elicit their effects through two described cannabinoid receptors. Cannabinoid receptor type 1 (CBI) found ubiquitously throughout the central nervous system (CNS), and cannabinoid receptor type 2 (CBII) found primarily in systemic immune cells. Selective agonists of the CBII receptor produce an immunosuppressant effect without any of the psycho-active effects seen during CBI receptor activation. Some research suggests that administration of CBII agonists before neurological injury may offer some neuroprotection through an anti-inflammatory mechanism. Our research aimed to investigate whether a clinically significant paradigm, of post injury drug administration, would offer neuroprotection in a rat model of early childhood ischemic insult. The model Variable hypoxia ischemia (VHI) was established in our lab and involves a unilateral ligation of the left carotid artery, followed by a period of hypoxia (8%oxygen 72%nitrogen) until a clonic tonic seizure was induced. Drug administration began 30 minutes after VHI and infarction volumes were assessed 15 days after VHI. No neuroprotection was seen when a selective CBII partial agonist (GW 405833) or a selective CBII full agonist (HU 910) was administered using either a single dose of 3mg/kg or with 6 daily doses of 10mg/kg. Unexpectedly one of vehicles used in this study that contained cyclodextrin 25% (w/v) was found to be neuroprotective with a 30.7% reduction in infarction volume when compared to a no vehicle control. This finding is consistent with research that suggests that cyclodextrin reduces excitotoxicity by lowering cholesterol levels at the synaptic cleft, thereby altering glutamate receptivity.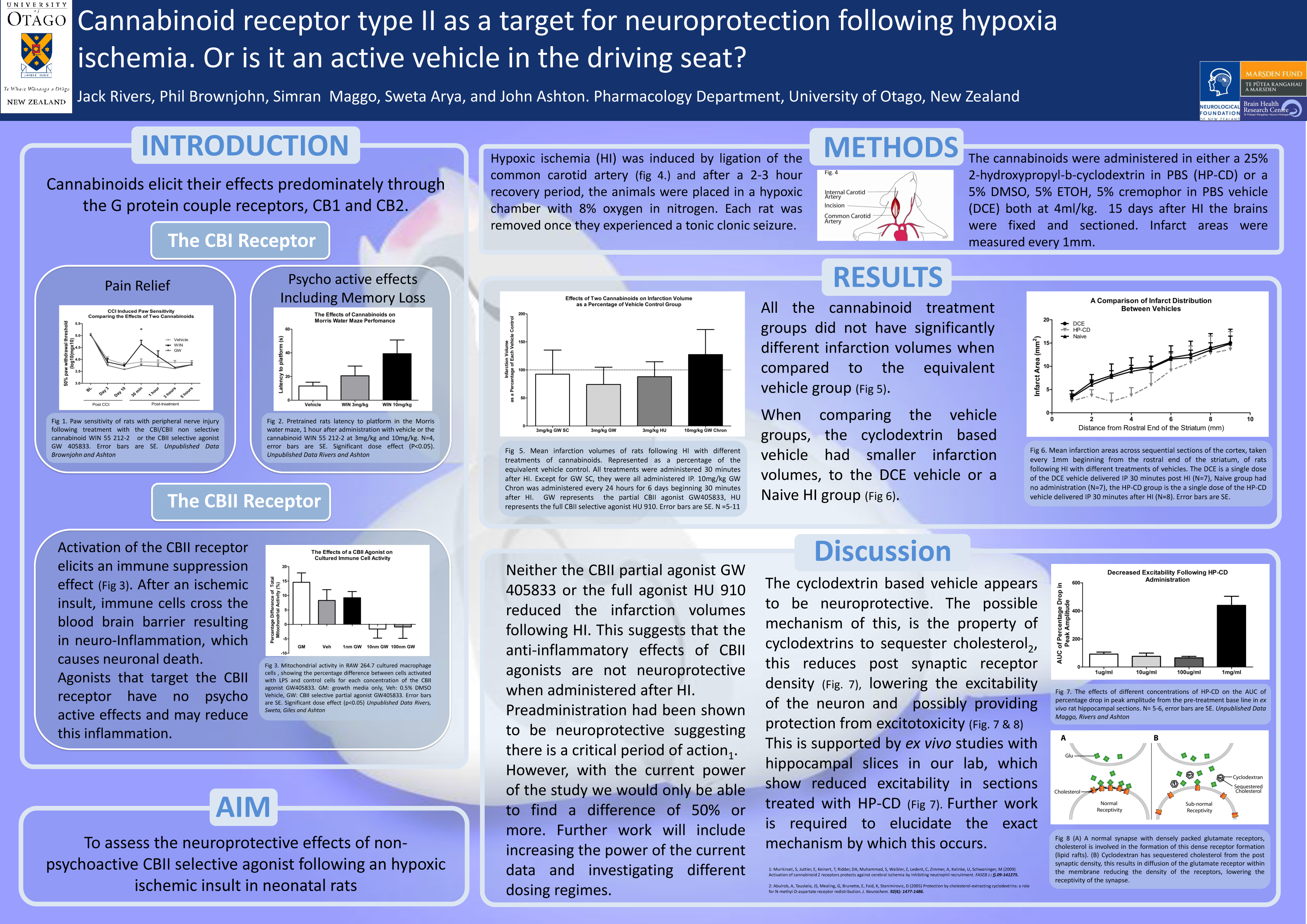 WCBR 2010
Effect of the Cannabinoid CBII Receptor Partial Agonist Gw405833 on Neurological Damage Caused by Hypoxia Ischemia in Rats
Jack Rivers, John Ashton
      Two G-protein coupled cannabinoid receptors have been described in mammals. Cannabinoid receptor type 1 (CBI) is ubiquitously expressed in the central nervous system (CNS), whereas cannabinoid receptor type 2 (CBII) is expressed chiefly in systemic immune cells. Cannabinoids that activate both receptors have been long known to have therapeutic effects that include suppression of inflammation and pain, and regulation of nausea, emesis and appetite. More recently, cannabinoids have been shown to be neuroprotective in various animal models. However, the use of cannabinoids as therapeutic drugs has been limited by their psychoactive side-effects, caused by activation of CBI. Following the recent discovery of CBII receptor expression in the CNS, together with evidence to suggest that activation of the CBII receptor causes few or no psychoactive effects, we have investigated whether specific CBII activation is neuroprotective. We therefore tested whether a CBII selective partial agonist GW405833 is neuroprotective in a rat model of hypoxia-ischemia (HI). 26 day old rats (n = 7-8) were administered with 3mg/kg GW405833 or vehicle (i.p) either before or immediately following HI. Neurological damage was assessed at 3 days and 15 days following treatment. Rats administered GW405833 had a reduction in the loss of hemisphere at 15 days post HI (vehicle 8.4% +–0.89% loss of volume, 3 mg/kg GW405833 4.1%. +– 0.64% loss of volume, P=0.001). Our results demonstrate that CBII activation is neuroprotective in the chronic phase of injury following HI and that CBII is a potential target for the treatment of cerebral ischemia.
http://www.conferences.uiuc.edu/WCBR/WCBR2010ProgramForWeb.pdf